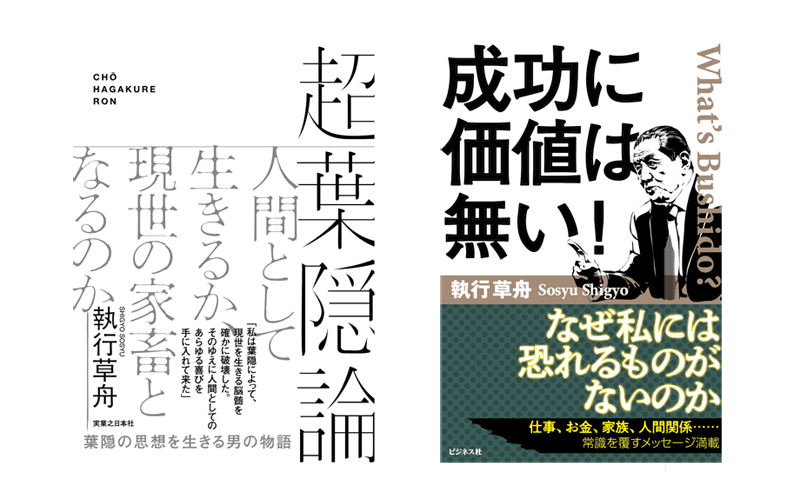 [Cho Hagakure-ron (Transcend Hagakure Theory)] (written by Shigyo Sosyu, Jitsugyo no Nihon Sha, Ltd.,¥2,200 including tax, scheduled to be published in early August, 2021. 408 pages ISBN:978-4-4408-3398-5)
[Seikou ni Kachi wa Nai! (No Value in Success!)] (written by Shigyo Sosyu, Business-sha, ¥1,540 including tax, scheduled to be published in early August, 224 pages ISBN:978-4-8284-2315-5)
 This time, 2 new books of life-theory based on the philosophical thought of Bushido and Hagakure, which forms the basis of Shigyo Sosyu's living-way, will be published and both will be on sale in early August. They are magnetic books, which could be read separately according to their feature. And when you read one then you will want to read the other one. I hope to have you take both of them in your hands.
■[Cho Hagakure-ron (Transcend Hagakure Theory)] (Jitsugyo no Nihon Sha, Ltd.)––––A Great Book of Philosophical Thought dealing directly with Hagakure.
 Following [Datsu Ningen-ron (De Human Theory)] (by Kodansha Ltd.) reprinted about 1 month from publication, it is a voluminous work of over 400 pages. In the first part over 230 pages of newly written contemplation chapter, he drastically dissected "Hagakure, which he places in the essentials of his living-way from every angle. "Hagakure" not of the stand point of morality and how-to, but it is a definitive edition of Bushido philosophical thought expanding from living-way itself to cosmology.
 The second part question-and-answer chapter is interview to further understand the philosophical thought of the first part, and editorial staffs of Jitsugyo no Nihon Ltd. ask questions from various angles. And through the answers understanding of the philosophical thought shall be enhanced.
 To live Hagakure is an agony. It shall bring forth sorrow and groan. However, from this suffering, true-self shall come into being. It shall become the true-self entrusted with cosmic mission.––––from [Transcend Hagakure Theory]
■[Seikou ni Kachi wa Nai! (No Value in Success!)] (Business-sha, Inc.)––––Contemporary Samurai Shigyo Sosyu will solve all ordinary problem!
 It is easy to read book for young business persons of 20 – 40 years of age, and Shigyo Sosyu answered to 64 queries of variety of worries of life in question-and-answer form. He kindly, meticulously and clearly gives suggestion to ordinary worries such as work, money, family and human relation from the living-way of Bushido.
 When one is born, until the day one die, throw oneself to everything and continue practicing it. This is Bushido.
There is no gain or loss, and good or bad.––––from [No Value in Success!]
 Celebrating the publication of above 2 books, we have opened a special page. Video of Rekijyo (History-lady) of Hakata, Kyusyu Ms. Shirakoma Hitomi and Shigyo Sosyu speaking on the characteristics of the respective books are opened. We hope to have you enjoy them also.